The effects of Membrane Lipid Replacement with NTFactor® Lipids on increasing the bioavailability of three test nutrients
Abstract
Introduction: Previous studies indicated that lipids and nanostructured materials may improve the uptake of nutrients with moderate bioabsorption properties.  
Objectives: This study evaluated the effects of Membrane Lipid Replacement with NTFactor® Lipids (NTFL) on bioabsorption of three poorly to moderately absorbed nutrients (quercetin, curcumin and coenzyme Q10) utilizing the Caco-2 epithelial cell permeability model. 
Methods: Transfer across a Caco-2 epithelial cell layer has become a reference standard in the pharmaceutical and nutraceutical industries for in vitro prediction of in vivo human intestinal absorption and bioavailability of orally administered substances. The degree of bioabsorption of the test materials was assessed by monitoring the concentrations of the test materials on each side of the Caco-2 monolayers by liquid chromatography and mass spectroscopy (LCMS/MS analysis).
Results: When NTFL was added to each of the three test nutrients, there was increased absorption and transfer across a Caco-2 cell layer in a dose-dependent manner for the three nutrients. When compared individually, CoQ10 with NTFL showed the most significant increase in absorption (2.01-times more compared to controls without NTFL, p=0.0011) at a concentration of NTFL of 10 mg/mL. NTFL also increased absorption and transfer across a Caco-2 cell layer of the other test nutrients, but these results did not achieve the same level of significance.  
Discussion: A variety of Oral membrane lipid replacement supplements with NTFL, such as various vitamins, minerals and nutrients, have been designed to reduce fatigue, improve health conditions, and protect cellular and especially mitochondrial membranes from damage. Here we used NTFL to demonstrate improvements in absorption and bioavailability of three nutrients. 
Conclusion: Using the Caco-2 bioabsorption and bioavailability in vitro model we found that NTFL could enhance absorption, bioavailability and uptake of nutrients while providing its own clinically demonstrated health benefits.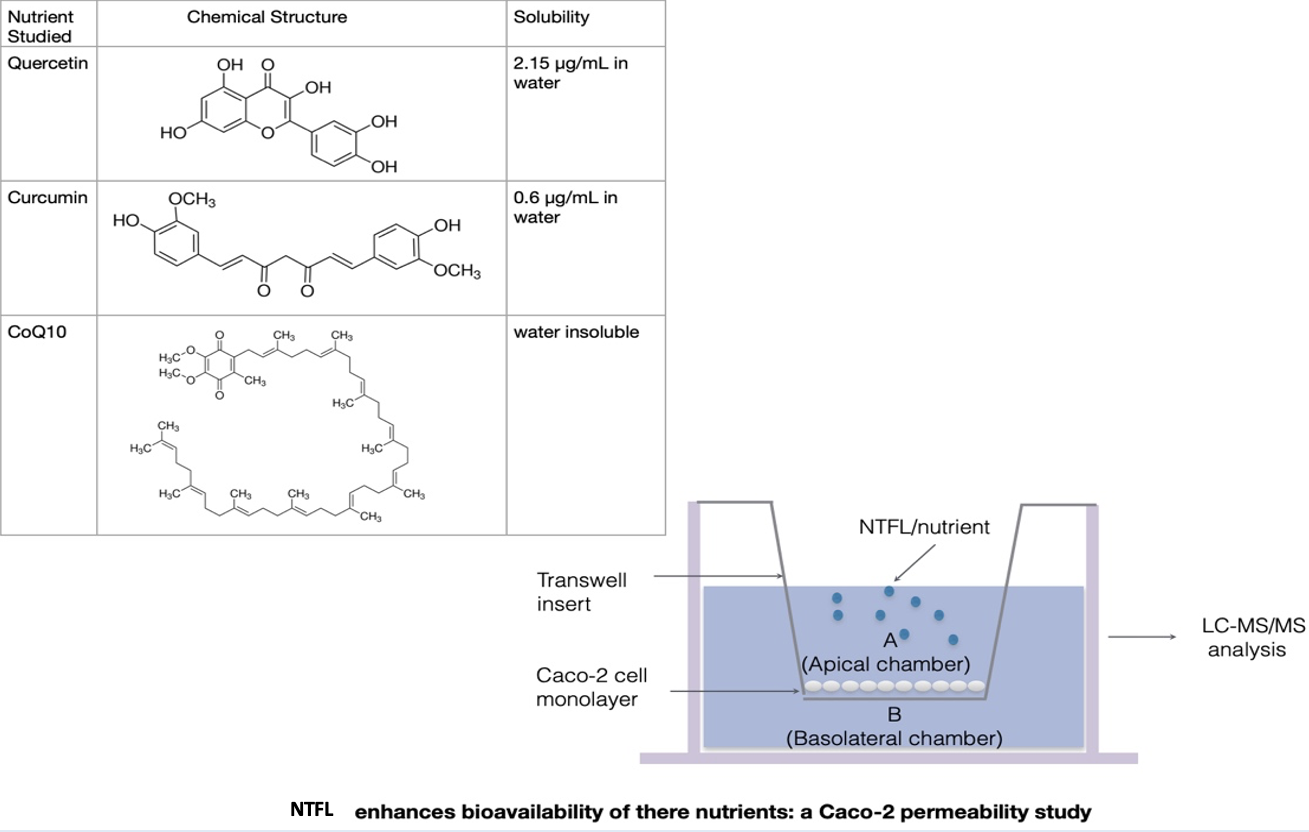 Keywords: Phospholipids, Membrane Lipid Replacement, CoQ10, curcumin, quercetin, bioavailability, absorption, permeability, Caco2, bio-uptake, bioabsorption, glycerolphospholipids, intestinal absorption
Full Text:
[Abstract]
[Full Article]
DOI:
10.31989/bchd.v5i5.936
Refbacks
There are currently no refbacks.
Copyright (c) 2022 FFC/Bioactive Compounds in Health and Disease
This work is licensed under a
Creative Commons Attribution-NonCommercial 4.0 International License
.